Tiwa Savage Biography, a Nigerian singer
Tiwa Savage Biography page on Nigeria's music network. Learn more about Tiwa Savage and how far she's come to be the successful sensational singer she is today in the Nigerian music scene; the first lady of MAVIN Records and co-owner of 323 Entertainment.

---
Beautiful Nigerian singer, Tiwatope Savage, was born February 5th 1980 in Lagos but spent majority of her life in the UK and US. This multi-talented Grammy award nominee first got a taste of the big-time at the age of 16 when she started as a background singer for George Michael.

Ms. Tiwa wasted no time in building on that by lending vocals to other top musicians such as Mary J. Blige, Chaka Khan, Blu Cantrell, Emma Bunton from The Spice Girls, Kelly Clarkson, Andreas Bocelli, Ms Dynamite, and many more. The burgeoning artist has since graced the stage with industry luminaries like Sting, 50 Cent, The Black Eyed Peas, Eminem, Robbie Williams, and Destiny's Child to name a few.

Before this opportunity, Tiwa was a member of her high school band, puffing on her trombone near the back of the orchestra. It was at this point that Savage gazed through the rows of musicians and realized that her destiny is to be positioned in the spotlight; singing in front of the orchestra.

Tiwa Savage's life could have taken a very different track. Just a few years ago, the vocalist was working at the Royal Bank of Scotland, after graduating from the University of Kent with a degree in business administration. But music had always been her first love, and when she got the call to sing backup for Mary J. Blige—for a European tour that was beginning in just three days—Savage decided to chuck accounting and focus on her music full-time.

Savage had done backup since the age of 17, when she sang for George Michael. Since then she'd gone on to work for Blue Cantrell and Kelly Clarkson, but she didn't want to be a backup singer forever. So she decided to come to Berklee to focus on her solo career.


At 27, Savage is older than most students, but their enthusiasm was infectious. "When I came to Berklee and saw a lot of the younger students, their drive and their passion, it recharged my batteries," says Savage. "[They're] not thinking, 'I'm going to save about $10,000 before I move,' no, 'I'm just going to get my backpack and move.' I needed that fresh air, that atmosphere. I kind of felt like a 19-year-old."

The relationships she's made here extend beyond than the college experience. As she lists off the producers of the album she's currently recording—Black Eyed Peas drummer Keith Harris, Derek Pate, Scott Coleman, Radar Ellis, and Darien Dorsey—she notes, "All of them are from Berklee."

Making the leap from backup to lead isn't without its pressures. As a backup singer, she could focus completely on her performance. Now, there's interviews with media, songwriting, and every eye on her onstage. "It's a whole different ballgame. Doing backgrounds, you just turn up at the gig and if it gets a bad review, it had nothing to do with you. If you're the artist, you take a lot of stuff personally," says Savage.


Ms. Savage has an advantage that many singers don't—her business background. And she's capitalized on that by majoring in professional music here at Berklee and focusing on music business, songwriting, and music production classes. "It's helping me now with my band, when we get contracts, when we have to pay people, when we have to be professional in dealing with people," says Savage. "Sometimes when people see that you're educated and you know what you're talking about, they don't really want to mess with you, swindle you or something."

Tiwa has already had a glimpse of the pressures of fame. Last year she participated in X Factor—the British competition that spawned American Idol—and made it to the top 24. The press was trying so hard to find out the results of the competition before it was televised that they were camped out in front of the hotel hoping to catch a glimpse of one of the finalists. "As soon as you wake up there's a camera crew in front of the hotel, people trying to snap pictures of you in the bathroom," says Savage. "So we had to disguise our names when we were checking into hotels and restaurants, use Mickey Mouse or Tinker Bell."

The limelight was difficult to deal with at the time, but Savage thinks it's prepared her for the realities of the career she's aiming for. "You have to always realize that people are watching. When I got the bad news that I wasn't getting through [to the final 12] it was a really painful time. But you still have to learn how to hold that until you get home. Because you don't want to just let everything out. People admire you and want to see that you're strong; they don't want to see you breaking down."

On the business end Tiwa set her own 323 imprint with entrepreneur and boyfriend, Tunji "Tee Billz" Balogun and she's currently signed to Sony ATV as a songwriter. Savage will embark on a solo career and will release her debut album in early 2011. She has also collaborated with Chuck Harmony (Rihanna, Mary J. Blige), Warren "Oak" Felder (Chris Brown and Jennifer Lopez), and producer So Sick (Da Grin) just to name a few, on her debut. Weaving an eclectic collision of influences on her record, the Nigerian native says her album will blend "songs in my native language Yoruba and some straight up R&B soulful pop records."

An avid songwriter since the age of 15, she has recorded with industry heavyweights such as Babyface, The Underdogs (Justin Timberlake, Britney Spears), Brian Kennedy (Jennifer Hudson, Kid Sister) and Red One (Lady Gaga, Kylie Minogue) led to Savage writing hits like Jaicko's "Oh Yeah," which features Snoop Dogg, Kat Deluna's "Push Push" featuring Akon and with production by David Guetta, Fantasia's "Collard Greens & Cornbread," from the album Back to Me, records on Letoya Luckett's upcoming album and with background vocal credits on Whitney Houston's album "I look to you."

Although being a songwriter for such prominent artists was a great opportunity and experience, writing for herself has been more rewarding. "I have political songs like 'Middle Passage,' which is about the struggles of African men in a foreign country," says the scholarship recipient and graduate of Berklee College of Music. A beautiful, naturally gifted songwriter, electrifying performer with a voice that is as sweet as honey, Tiwa Savage is ready to share her music wit the world.

Savage's family immigrated to England from Nigeria when she was 11, and the things she experienced in Nigeria have an impact on her life to this day. "Living in all three places—in Africa, in Europe, and now the United States—it's really opened my eyes. I'm really accepting of a lot of cultures. . . . I feel a lot older than I am, because I've seen a lot. A lot of poverty in Nigeria, but people still smiling when they don't even have water," says Savage. "I kept saying to myself that when I made it I was going to invest millions and I just realized I have to do stuff now. People always say, when I make it. . . . If you don't discipline yourself now, you're never going to do it, even if you do get millions."

To that end, Savage is traveling to Africa in December to help raise money for an organization that builds schools. This summer, she's performing in Berklee's summer concert series, giving free shows in outdoor locations all over the city, from the Boston Center for the Arts, to the Institute of Contemporary Art, to Kendall Square, before moving to L.A. in the fall to work on her first album. She's learned that having a full life means fusing all aspects of it—from music to business to charity.

Tiwa Savage burst onto the booming African music scene in 2010 with the strength of a gale force wind. Her chart-topping debut single, 'Kele-Kele Love' quickly captured the public's imagination in a manner not quite seen before.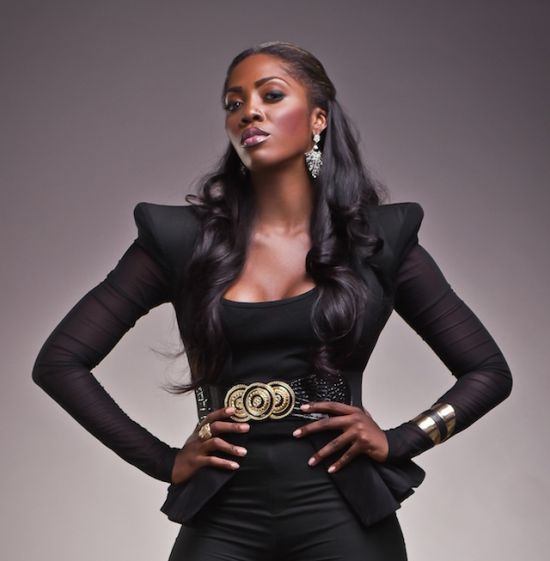 Ms. Savage's sultry tones, pulsating dance moves and electric stage presence quickly saw her rise to the top of the Nigerian music industry. Numerous accolades were to follow including a City People Entertainment Award for 'Female Musician of the Year' in 2011, 'Best R&B Soul Song' for Kele Kele Love at the Afrotainment Museke Online Music Awards, 'Most Stylish Female Artiste' at the FAB Magazine Awards and 'Most Promising Act' at the Dynamix Youth Awards.

Tiwa Savage was nominated for more awards following the success of her second single 'Love Me 3x' including 'Most Gifted Female Video' at the Channel O Music Awards, Female Musician of the Year and Song of the year for 'Love me 3x' at the TUSH Youth Awards and 'Next Rated' at the 2011 Hip-Hop World Awards.

Tiwa, who is the First Lady of Mavin, recently signed a multi-million naira deal to become the face of Pepsi, and also the first African to do so according to information gathered from Mavin Records.

After years of thrilling fans with her undulating voice and titillating moves, sultry songstress and Mavin first lady, Tiwa Savage officially launched her debut album "Once Upon A Time" in mid 2013.

The album, powered by 323 Entertainment/Mavin Records, was officially launched on Saturday, 6th of July and is delightfully packed with a diverse range of music from reggae to R&B and capped with tinges of techno, house, kwaito and dubstep.

Tiwa Savage's debut album features collaborations with artists like Iceberg Slim, Flavour, Leo Wonder, Sarkodie, General Pype and ace producer /CEO Mavin records, Don Jazzy. All time favorites by the singer such as "Love Me, Love Me, Love" and "Kele Kele Love" were also included on the album as bonus tracks.

Questions & Answers:

When Is Tiwa Savage Birthday?


Tiwa Savage celebrates her birthday

on

February 5th every year. She was born February 5 1980.

What Is Tiwa Savage Twitter Handle?


Tiwa Savage is on Twitter. Her officially verified Twitter handle is @TiwaSavage


What is Tiwa Savage Record Label?


Tiwa Savage is

currently signed to

Sony/ATV Music Publishing, 323 Entertainment and Mavin Records.

-The Nigeria Music Network Team - Nigeria's No.1 Music Network

CREDITS

Brenda Pike / Berklee College of Music (Pub: 09/2007)
Additional info from Mavin Records

Tiwa Savage biography page was last updated: 11/11/2013

Post your comment